Build it Once. Live Forever.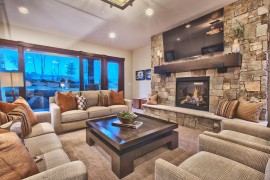 As a premiere Park City builder, Scandinavian, LLC is able to create a wide range of home styles from classic mountain rustic to cutting edge modern.
Our unique building system consists of pre fabricated log parts manufactured in Finland and shipped to your site, ready to assemble. We are committed to building luxury homes which fit your sustainable living ideals.
Our team has built magnificent homes in some of the most exclusive areas around Park City such as Deer Valley Resort, Wolf Creek Ranch, The Colony, and Promontory Ranch Club. As a Park City contractor we work closely with Park City architects and others around the world to create your dream mountain retreat.
Although Utah is our home base, we can deliver our Scandinavian designed house packages anywhere in the world. Regardless of where your custom home is built, our team will work closely with you from designing your home, to providing turn-key construction. Scandinavian has worked in collaboration with many developers such as Talisker Group, Cliffs at High Carolina and Red Ledges, and can provide the custom home you desire.
Have questions about our services? Ask our experts.
What Makes Our Building System Stand Out
Trends come and go, but with a life changing effort like building a sustainable house, quality and reliability are the key factors to success. The secret to our homes is in the natural wood product and the nature of the quality of our wood. As a building material, wood has fantastic thermal mass value and makes an excellent building material also because of its suitability for different usages.
Scandinavian Home Collections
Home styles range from Mountain Contemporary to Modern.
Corporate News & Press
Scandinavian
Scandinavian, LLC has launched a new website in order to serve you even better than before! Don't worry, we are still the same company. Lorem ipsum dolor sit amet. Conducteria don lapsim oret sillitum katos [...]
Scandinavian
Scandinavian, an International Residential Home Designer and Building Company produces "Green Built" homes using the best building products found around the world. The Green Process begins in the design and production phase. Our in house [...]